For the girls game next Tuesday at Fairview, they will be selling tickets online this year. There will be no cash sales at the gate. Tickets may be purchased with a credit card at the gate. Tickets are $6 for varsity events. Here is the website.
https://fairview.hometownticketing.com/embed/all

The junior high girls will now only play one game tonight staring at 5:00. This is due to roster concerns at Ayersville.

Pre-Sale tickets for the JV/Varsity boys home basketball game Saturday night are available in the high school office today and until noon tomorrow. Presale price is $7 for adults and $5 for students. All tickets at the door will be $7.

The JV/Varsity Girls basketball game tonight at Columbus Grove will have one half of a JV game before the Varsity game. JV game will start at 6:00.

The Varsity Boys Basketball game TOMORROW (11-27) night at Temple Christian will start at 6:00 not 5:00 as listed on some schedules. Go Pirates!

The Continental Board of Education is taking applications for two board of education vacancies. The deadline to apply is January 10th at 4pm, however you are encouraged to have your application in by December 20th if interested. For more information please visit us a the link below:
https://www.continentalpirates.org/page/board-of-education

The Varsity Girls Basketball game on Saturday at Lincolnview will be Varsity only and will still start at 6:00.


The boys soccer sports banquet will begin at 7:30 tomorrow in the auditorium instead of 7:00.

The Alumni Basketball game will be Friday night, starting at 6:00 with the girls playing first followed by the boys. The cheerleaders will also be in action. There is no admission charge. Athletic passes will also be on sale.
Veteran's Day Program on 11/11/21 at 10:00 am in the high school gym. Wear red, white and blue.
Continental Schools are closed for the day due to dense fog is part of the district.

Continental Schools are moving to a 3-hour delay today (11/10/21).

Continental Schools are on a 2-hour delay today due to fog (11/10/21).

Parents of Pirates are hosting a Purse Bingo on Sat. Nov. 13 at the Legion. Come join the fun!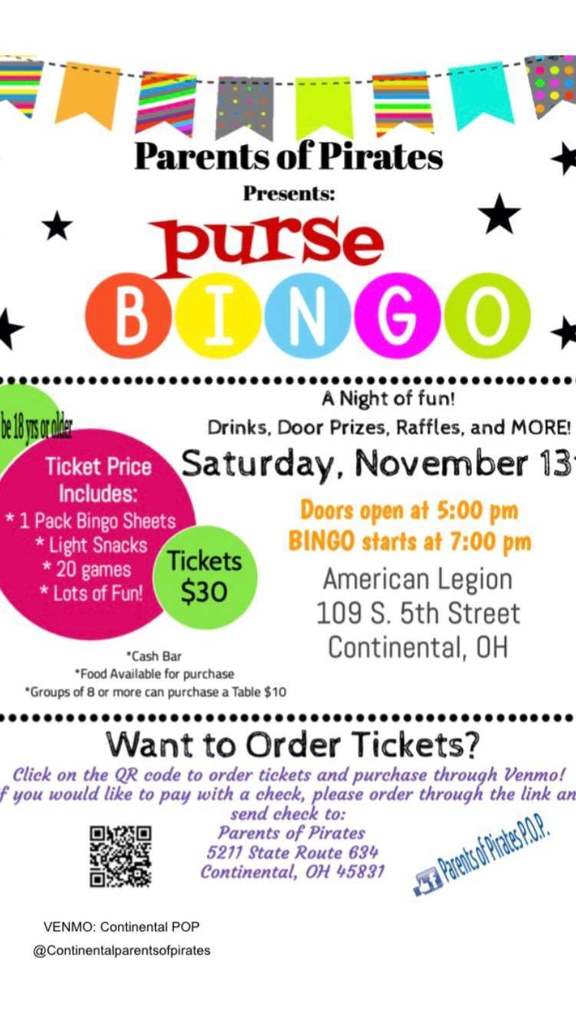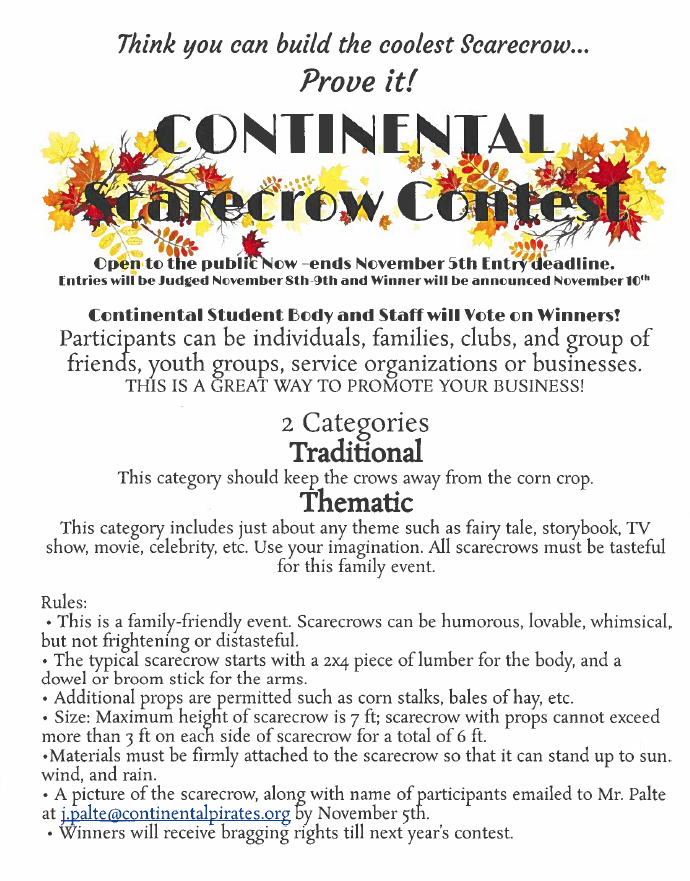 Bus #3 is running about 15-20 minutes late this morning (10/8/21) due to a mechanical issue.

Continental Local Schools will be delayed 2 hours this morning. Tuesday - October 5, 2021. Please drive safely.

Here is the link to the newest Continental Newsletter. Please take the time to read about all the exciting things happening at Continental Local Schools.
https://5il.co/zw20