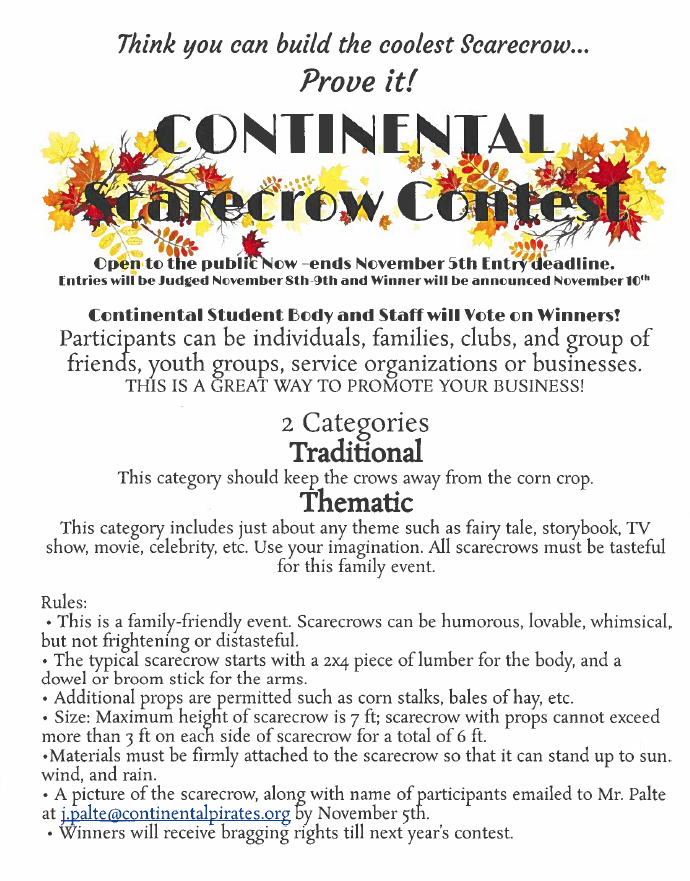 Good morning. Putnam County Health Department and the Putnam County Schools are working each and every day to keep your children safe and in school. Please see the letter updating quarantine procedures. Please call if you have questions or concerns.
https://5il.co/10l1v

Bus #3 is running about 15-20 minutes late this morning (10/8/21) due to a mechanical issue.

Continental Local Schools will be delayed 2 hours this morning. Tuesday - October 5, 2021. Please drive safely.

Here is the link to the newest Continental Newsletter. Please take the time to read about all the exciting things happening at Continental Local Schools.
https://5il.co/zw20

The Putnam County ESC is hosting a Parent Information Series. Please see the attached flyer for the first seminar. Link to Flyer:
https://5il.co/zma9



Bus 3 is running about 15 minutes behind due to mechanical issues.

Bus 3 is running about 10 minutes late due to mechanical issues.

The girls soccer game will start at approximately 1:15 instead of 1:00 this afternoon. #gopirates

JH and High School volleyball at Temple Christian will be a triple header tomorrow. There will be one JH game only, then the JV and Varsity game. First game starts at 10:00. Tickets will be $7 for adults and $5 for students. This will grant admission for all three games.

Do you remember where you were 20 years ago on 9/11? We will be having a stair climb to honor those who lost their lives. The event will take place in the HS building on Sun, Sept. 12th @ 5:00. If you are unable to climb the stairs you are still welcome to come walk the halls.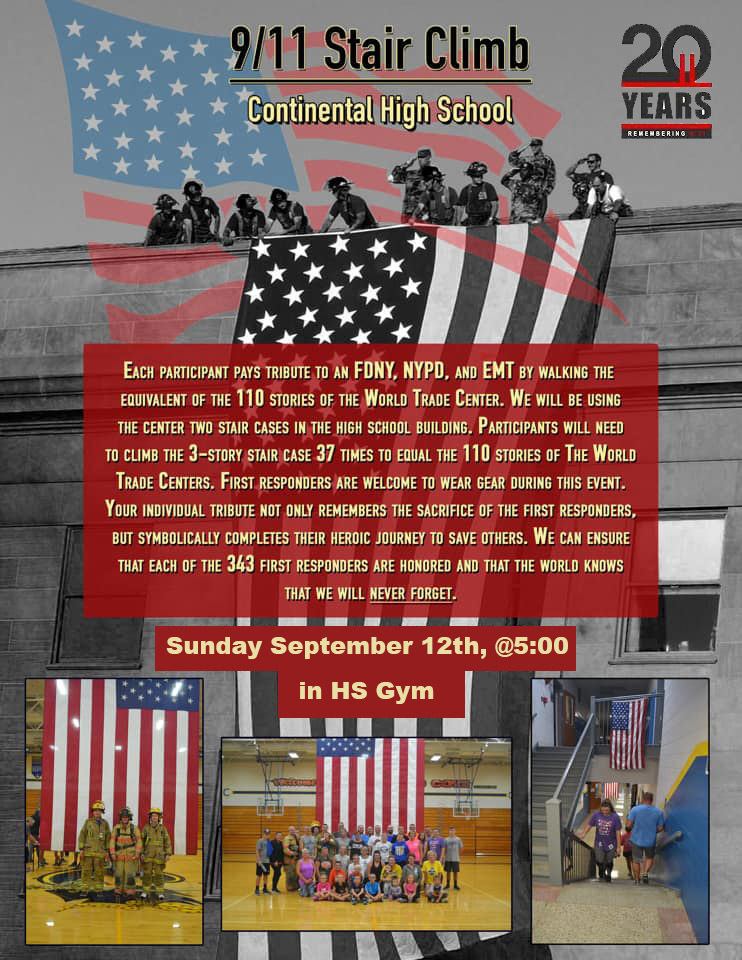 Fall picture day is WEDNESDAY, September 1st!! Students should have already brought home picture packets, but if not we have extras in the office!! Call the office if you have any questions!!


Continental Local Schools has published its 2021-2022 COVID-19 plan. Please use the attached link to read the plan. If you have questions, please call 419-596-3671. Link to Plan:
https://5il.co/wxgi
The office is officially open and summer school started today. If you would like to register your child for school or have a question, please contact us at 419-596-3860 Below are a few important dates and reminders: 1. OPEN HOUSE: Thursday, August 19 from 4:00pm - 6:00pm - Students can drop off school supplies and meet their teacher. Bookbills can be paid as well. 2. FINAL FORMS: Parents can update forms at their convenience. 3. FRIST DAY Grades 1-6: August 24, doors open at 8:05 am 4. KINDERSTART and KINDERGARTEN: First day of school is Thursday, August 26. You will be getting a letter stating the day and time (either August 24 or 25 for 30 minutes) your child will come in for the Kindergarten Readiness Assessment.
Supply lists can be found on the elementary page. Bread crumb trail: Schools, elementary, from the principal, k-6 supply list.

The Continental Athletic Boosters are excited for the upcoming Annual Blue and Gold Club Reverse Raffle being held on August 14th at the Continental American Legion. Tickets are $50 apiece and include your choice of chicken or steak dinner from Black Angus catering and enter you into the main drawing for a chance at the top cash prize of $3500. Tickets can be purchased on our Facebook page or emailing
Continental.blue.gold@gmail.com
. Doors open at 6:00 pm and the drawing begins at 7:00 pm. Need not be present to win the main prize, but we encourage you to enjoy the event live, in-person for many fun games and extra raffles. We appreciate everyone's support of the athletic program.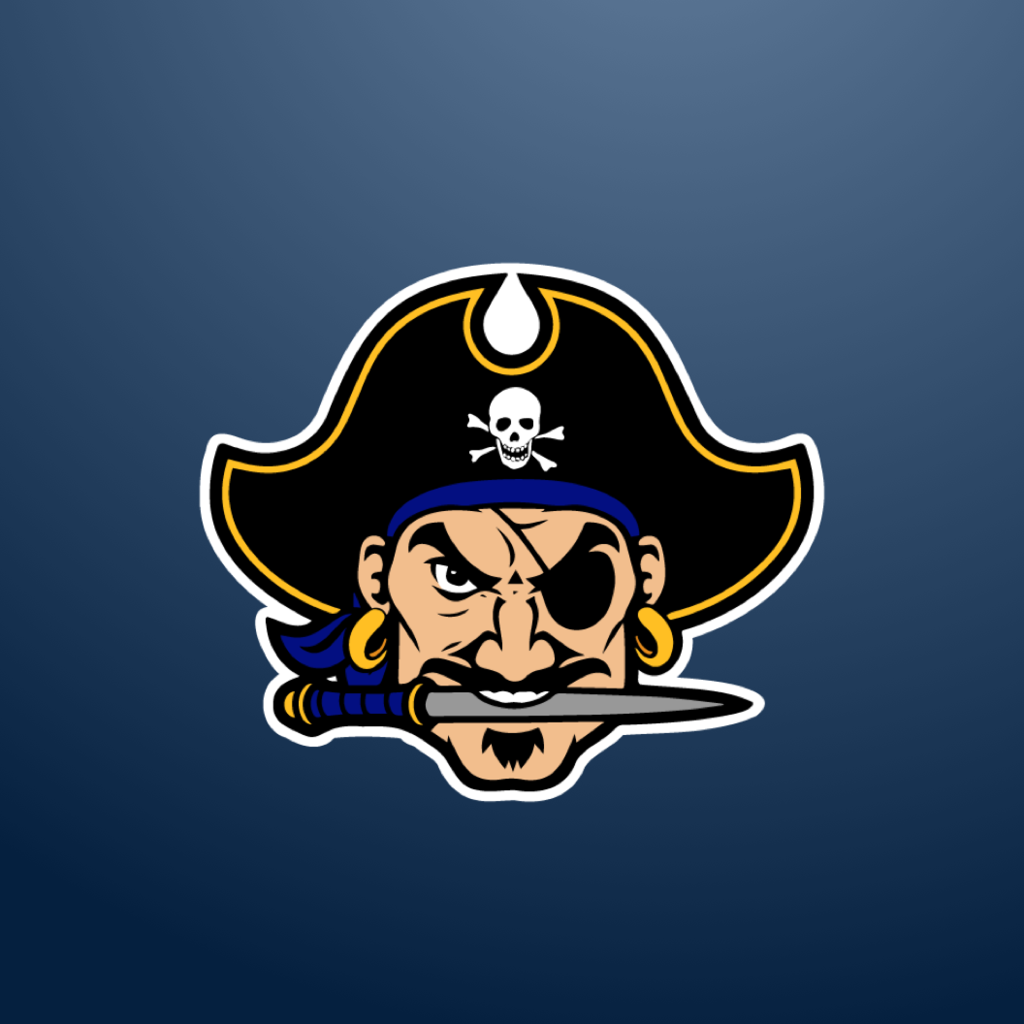 The phone system is back up and running, thank you for your patience! Have a great day!